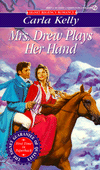 Title:
Mrs. Drew Plays Her Hand
Author:
Carla Kelly
Published:
1994, Signet
Category:
Regency Romance
Rating:
9/10
Back when the AAR Top 100 list was going around,
JMC
recommended Carla Kelly. It's taken a while for me to get around to her, first because they're pretty hard to find, and second because I'm afraid I'm a bit of a snob and don't read many trads. Well, now I've been proven wrong and have learned again the lesson not to judge a book by its cover, or its genre. This was delightful and I loved every minute of it.
Roxanna Drew is a young widow whose husband has recently died from a longlasting illness, leaving her with two little daughters and no money. Her only family is her brother-in-law, Lord Whitcomb, who makes a smarmy proposition which Roxanna cannot even stomach contemplating. She finds a small cottage on a neighboring estate and rents it, even though it is in near ruin. The owner of their new home soon comes visiting--Fletcher Rand, Lord Winn is a military man newly home from the war. The evil Lord Whitcomb is still vying for a way to get Roxanna into his bed and puts forward an official complaint to the sheriff that Roxanna is an unfit mother. He tells her that he will take her children away from her if she does not move into his house. Lord Winn, by now good friends with Roxanna, decides they must marry to save the children. Or at least that's what he tells her. But he likes her. :)
In a lot of ways the plot is standard romance--improbable circumstances which lead two relative strangers to marry, running to Gretna Green. And in some ways it's completely atypical--Roxanna truly loved her first husband and must grieve for him, then get over the guilt she feels at loving another. Lord Winn divorced his first wife because she was unfaithful, and admits that through all his anger and resentment, he did love her. His patience with Roxanna as she comes to terms with their marriage is phenomenal and so endearing.
I think this will become a comfort read for me, because everything is just so . . . nice! And so lacking in melodrama, which is my most common problem with romance books. It's really funny in parts--her dialogue is great. I feel a glom coming on.
I read in
this interview
from 1998 that Kelly gave up writing regencies because the pay was so paltry. Which is very sad. But I was searching on Amazon and it looks like she has a new book out in March from Harlequin Historical--
Beau Crusoe
. Sounds like a swashbuckling romance, no? Anyone know anything about it?